[fusion_builder_container hundred_percent="no" equal_height_columns="no" menu_anchor="" hide_on_mobile="small-visibility,medium-visibility,large-visibility" class="" id="" background_color="" background_image="" background_position="center center" background_repeat="no-repeat" fade="no" background_parallax="none" parallax_speed="0.3″ video_mp4="" video_webm="" video_ogv="" video_url="" video_aspect_ratio="16:9″ video_loop="yes" video_mute="yes" overlay_color="" video_preview_image="" border_size="" border_color="" border_style="solid" padding_top="" padding_bottom="" padding_left="" padding_right=""][fusion_builder_row][fusion_builder_column type="1_1″ layout="1_1″ background_position="left top" background_color="" border_size="" border_color="" border_style="solid" border_position="all" spacing="yes" background_image="" background_repeat="no-repeat" padding="" margin_top="0px" margin_bottom="0px" class="" id="" animation_type="" animation_speed="0.3″ animation_direction="left" hide_on_mobile="small-visibility,medium-visibility,large-visibility" center_content="no" last="no" min_height="" hover_type="none" link=""][fusion_text]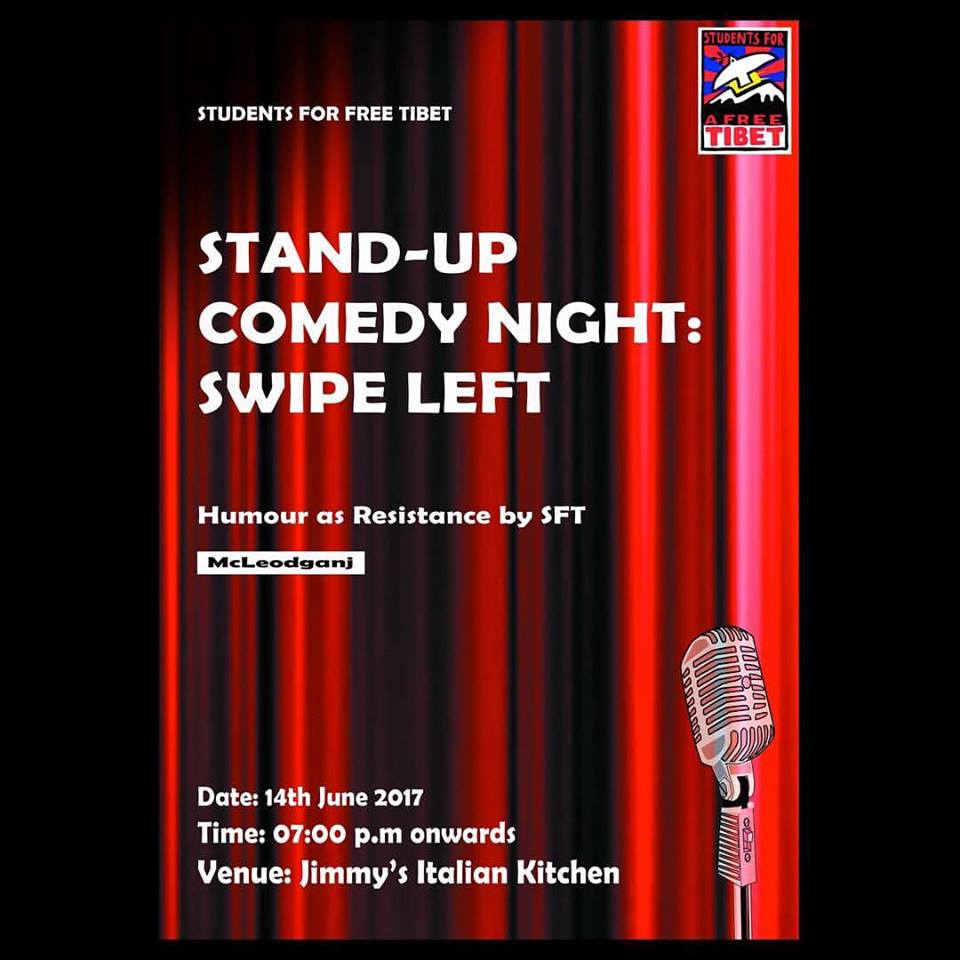 STAND UP SHOW: SWIPE LEFT
Humour as Resistance
Humour is one of the most powerful tools to challenge status quo, recognising that, Students for a Free Tibet organised a stand-up comedy night on 14 June 2017, Student's for a Free Tibet called 'Swipe Left: Humour as Resistance' at the Jimmy's Italian Kitchen in Mcleodganj. A first of its kind, the main aim of the event was to spread awareness about the Tibetan movement to all the non- Tibetans, while also providing a novel experience for the Tibetans in exile.
"Satire can be cathartic for those with less power, and it can help to build solidarity," writes Haugerad, and this was precisely the understanding that SFT had when organising the event.
The event was organised and conducted by all SFT members and interns. The event challenged all pressing issues that not only surround Tibetans but also those that exist as a consequence of an authoritative Chinese government such as censorship, territorial control, arbitrary and stringent laws.
The show was divided into 5 segments each relying on one of the following: anecdotal and character comedy, poetry, music and videography. Three performances were completely in an open mic format; amongst the rest, one had a satirical poetry and two were song based performances; one a rendition of the popular song 'Shape of You' by Ed Sheeran and the other a short cover of "Redemption" by bob Marley. One full segment was dedicated to the environmental degradation that comes out of the constant resource exploitation by Chinese government in Tibet focusing on the construction of dam on River Tsangpo that could create water issues for India as well.
All content, although funny, were based on facts hence it not only made people laugh but also think. Humour finds its place between the walls of pain and laughter, and hence it is necessary that while fighting for a larger cause we don't get stuck in a wall but rather use different avenues to reach our end.
The motive of the event wasn't to joke about or make fun of the people of China but use humour to understand the gravity of numerous problems that Tibetans are facing at the hand of the Chinese government.
[/fusion_text][fusion_youtube id="https://www.youtube.com/watch?v=K_ovANtnyCQ" width="" height="" autoplay="false" api_params="" hide_on_mobile="small-visibility,medium-visibility,large-visibility" class="" /][/fusion_builder_column][/fusion_builder_row][/fusion_builder_container]