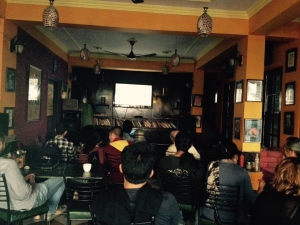 On 9th September 2015 we screened the first episode of "A Force More Powerful". The documentary shows three non-violent resistance movements, their strategy and eventual success. At the beginning they show Gandhi, how he along with thousands of his followers challenged the British colonisers. It is followed by the civil rights movement in Nashville, USA where young students fought against racial segregation at lunch counters. At last they display the struggle of the anti-apartheid movement in South Africa and the means through which they regained their rights.
In the discussion following the screening one particular question was raised: How do we work towards a Free Tibet? For us it is important to emphasize the different factors that made the case study movements successful. The key to fighting oppression is to continue to resist. In our case, it is key for us to keep resisting the draconian policies of Chinese Communist Party. Especially in a nonviolent movement like ours, to keep pushing the boundaries of resistance creativity is a must. Lhakar is a perfect example of that. Started in Tibet, the Lhakar movement empowers Tibetans with simple, low-risk, individualized tools for cultural resistance. Other than that, grassroots organizing is important to strengthen the movement and strategically achieve our common goal of a free Tibet.
Watching this film inspires and encourages us at the same time. Although the Tibetan issue might seem more complex, history has shown us that nonviolent resistance movements are successful in the long-term. We believe that through learning from nonviolent movements in the past, we can inspire ourselves in the Tibetan movement with new strategies and tactics to overcome Chinese oppression.