At Students for a Free Tibet, our strength comes from our grassroots network. The efficacy of our hard hitting campaigns is because of our committed student volunteers, members and supporters who never miss an opportunity to organize, mobilize and take action!
Every year, SFT-India tours the country to meet with our members and supporters. Our journey began from Ahmedabad, followed by Mumbai, Pune, Bangalore, Chennai and Delhi. We visited universities, colleges, high schools, cafes and bookshops; many people heard about Tibet for the first time. Their curiosity and positive response to getting involved inspired us to work harder and more effectively!
Our Grassroots Director Rinzin Choedon and Campaigns Director Jyotsna started Chapter Visit 2015 with a bang at MICA, Ahmedabad where they gave a talk at Dr. Harmony Siganporia's class on Imagining India, followed by a inspiring session with MICA students at 12:15am which wrapped up only at 4 in the morning! 
We also had the opportunity to visit National Institute of Design, India's leading institute for graphic design and art, and screen 'Leaving Fear Behind' with the curious budding artists of India!
Next stop on our Chapter Visit was Bombay, the City of Dreams! We had a screening of Leaving Fear Behind at Tata Institute of Social Sciences, and for the first time we collaborated with the alternative art hub The Hive in Bandra. We had a very successful screening there with a long interactive session that ran late into the night with Indian artists, scriptwriters, actors and aspiring filmmakers. 
Moving to the student-hub Pune we visited Mahindra United World College of India (MUWCI) for the first time where we met with students from all over the world. Apart from screenings at Symbiosis Institute of Mass Communications, and Symbiosis School of Liberal Arts, we also had an intimate chai and conversation at Pagdandi – Books, Chai, Cafe in Aundh. Our highlight of Pune, however, was meeting with students at Film and Television Institute of Pune – where we spoke of oppression, solidarity, resistance and passion. 
Our visit to Bangalore was tightly packed with talks at St. Joseph's College of Arts and Sciences, St. Joseph's College of Commerce, St. Patrician College, Azim Premji University and The Valley School (Krishnamurti Foundation India). The new team at SFT Bangalore organized an event at DYU Art Cafe where we spoke of Resistance and Youth Activism in the Tibetan Freedom Movement.
This time in Chennai we met with Tibetan Students Association Madras (TSAM) and the highlight of our visit was our meeting with long-time Indian supporter Aunty Asha. Even though we were meeting for the first time it felt as if we had known each other for  a long time. She was very encouraging, generous and inspired us to continue our fight for freedom in Tibet no matter what obstacles, hardships or disappointments.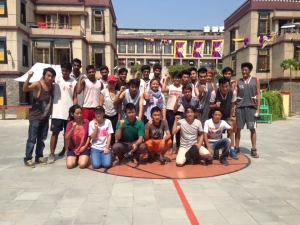 Delhi was our last stop where we gave a talk at Ashoka University along with our chapter members from SFT Delhi. It was incredibly inspiring to see the new team at SFT Delhi organize their first event together – an Inter-College Basketball Tournament at the Tibetan Youth Hostel, Delhi.