犀利士
nt/uploads/resistance-dec-26-1024×680.jpg" alt="resistance dec 26″ width="500″ height="332″ />
 2015 has been a tough year for the Tibet movement. The passing away of an inspiring leader, social worker, and teacher Tenzin Delek Rinpoche left us devastated and enraged. The entire Tibetan exile community jumped into action to condemn China for his death, pressure international governments for an investigation and get justice for his family. At the end of the year, we decided to honour and celebrate the courage of the 30 Tibetan political prisoners who were released in 2015, and continue to advocate for the thousands more still serving unjust prison sentences.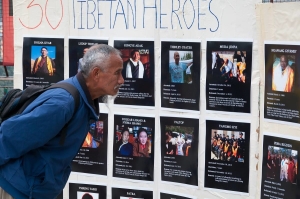 We had a panel discussion with leading Tibetan activists based in Dharamsala. Gompo Trinley, a former political prisoner, was imprisoned for taking part in the 2008 protests, and shared his personal story with the audience. Tenzin Tsundue, a writer, poet and activist spoke on the different forms of resistance in Tibet since 2008. Tsering Tsomo, Director of Tibetan Center for Human Rights and Democracy elaborated on the grave situation of Tibetan political prisoners, and the sophisticated forms of torture they have to endure. Mensher Lodoe, Education Director at Tibetan PEN Center, spoke on Tibetan resistance through writing and literature. Finally, Dorjee Tseten, Asia Director at Students for a Free Tibet, closed with insights on grassroots mobilization and resistance.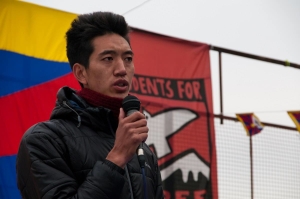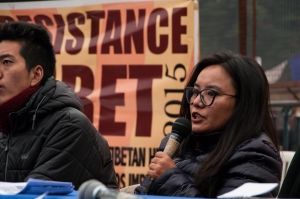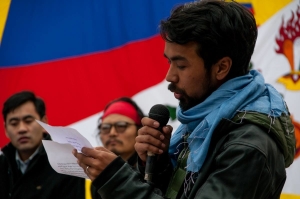 We also had an interactive art installation by Tibetan artists Chungpo Rigtsel where individuals placed their hand print on an empty canvas over which Chungpo painted prison bars and a dove, bird of peace.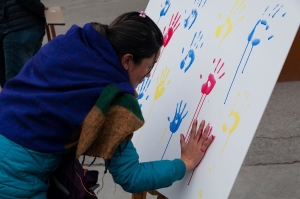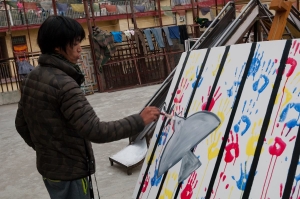 The 30 Tibetan political prisoners released from prison after serving their prison sentence are: Dolma Kyab, Topgyal, Yangmo Kyi, Tsering Kyipo, Phakpa, Palden Gyatso, Phakma, Jigme, Jigme Samten, Ngawang Gyurmey, Lhakyab, Rungye Adak , Tsering Kyab, Tsering Tashi, Patra, Dobe, Tabe, Kelsang Sonam, Jamyang Tenzin, Samdrup Gyatso, Palden Thinley, Norbu Tsering, Paltop, Tseten Gyal, Pema Ridgzin, Mura Jinpa, Dolkar Lhamo, Nyima Lhamo, Lundup Tender and Thinley Gyatso.
They were imprisoned for merely exercising their freedom of speech. Among the 30 released political prisoners, Ngawang Gyurmey faced the longest prison term of 15 years for protesting at a large public gathering where he distributed leaflets carrying slogans such as ' Long live His Holiness the Dalai Lama', 'Free Tibet' and 'China, out of Tibet'.
We closed the event with a Gorshey (traditional Tibetan circle dance) to celebrate the courage of these Tibetan heroes who served their unjust prison terms for their belief in freedom, justice and their dream of a Free Tibet!