Students for a Free Tibet is powered almost entirely by volunteers – both at our office in Mcleodganj and on the grassroots level. Interns and volunteers are an essential part of the work that takes place at SFT and are vital to our strength as an organization and our effectiveness in fighting for Tibet's independence.
Volunteers Speak!
---

Namita Rao – Pune
In June 2014 I interned with SFT Dharamsala and had an educating experience that I will treasure for the rest of my life. I am a student from Pune where the awareness level about the Tibet-China conflict is negligible. I started my internship knowing very little myself and by the end of it, I had a rich knowledge about the conflict, the movement and the beautiful diaspora in Mcleod Ganj. I worked on multiple political and cultural campaigns throughout the month and in the process met so many people who are a part of the freedom movement who incredibly inspired me with their determination and rebellious attitude towards Tibet's independence. Ever since I came back, I joined the SFT Pune Chapter and have been TalkingTibet with my friends, college peers and family. I am thankful to the SFT family for giving me the opportunity to be a part of this. Bhod Rangzen!
Tenzin Nyima – Dharamsala
I used to be clueless about how to channelize my passion and determination towards the Tibetan cause. Then I started volunteering with SFT-India. I have had a very rich learning experience. I learnt about Tibet: its past and present, freedom fighters, pristine environment and its degradation, destruction, exploitation of Tibet's resources by china. And, how important and critical it is to regain our lost land. AT SFT-India I also  enhanced my practical knowledge on cyber security. I realized how crucial it is for us to engage in strategic nonviolence to be impactful in the Tibetan movement. My experience with SFT has helped me grow overall as a person. I am always there for SFT.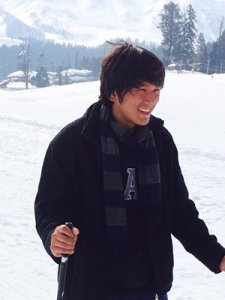 Tenzin Dalha – Delhi
Interning with Students for a Free Tibet – India was an experience mixed with intensive research, tour and quest for truth. The SFT office is located facing the magnificent Dhauladhar ranges which present a different view every single day. What is better than the view outside are the beautiful minds and faces inside the office who see no hierarchy in any kind of work. They're ready to fill in spaces or walk for kilometers as long as the work has to be done.
I assisted with one of the summer student group visits, and I especially appreciate SFT's attempt to provide an holistic understanding of the entire Tibet conflict when dealing with student groups, without bias. While research and field work are part of almost all internships but living a cause as delicate as the Tibetan freedom movement can be experienced in such high spirit and energy from very few places.
Internship Opportunity
---
We welcome interns to our office space in Mcleodganj, for varying periods of time. Interns help us out with the daily running of the office, in addition to organizing local grassroots outreach events and activities. Our interns also play an important role in research for our ongoing and upcoming campaigns. We encourage our interns to take on individual projects based on their personal inspiration and skill-set.
If you would like to intern with us, write to us at sftindiagrassroots@gmail.com